R.I.P.





Dimebag Diamond





Darrell
A Dedication To A Phenomenal Person From A Shattered Fan
Part 1: A Message From Philip Anselmo Given By An Old Friend
Part 2: A Message From Metallica's Lars Ulrich
Part 3: Dimebag Darrell, Four Others Killed In Ohio Concert Shooting
Part 4: 'Dimebag' Darrell Abbott: A Larger-Than-Life Guitarist And Human Being
Part 1:
A Message From





Philip Anselmo





Given By An Old Friend
Posted: Sat Dec 11, 2004 4:01 am
Post subject: Message from Philip
Source:
https://www.downboard.com/forums/viewtopic.php?t=2712&start=0
--------------------------------------------------------------------------------
I don't have a big official statement. I do have a lot of inside knowledge on the Pantera feud from Philip's side and tonight he gave me the green light to let everyone else in on what I know. He trusts me to do this, and I take 100% responsibility for anything that is inaccurate, but I'm confident you all know I'm not going to touch on this subject unless it's from the heart. He didn't even give me any specifics except for the final part of this post... he just wants me to tell people what I know to be true.
Philip loved Darrell like a brother, always. They accomplished things together that most wouldn't even dare to dream. None of us can know what it's like to be riding such a big machine, it changes the face of music and brings joy millions of people's lives around the globe. The rewards are big, but the stress is unimaginable if things don't go perfectly. Yes Pantera broke up and there was a lot of shit talking through the media. There are two people on this board (WOLVIE and NGJ) who would periodically ask me about what's going to happen with Pantera in the future. I told them each time that I don't know when, but I'm 100% sure that we will see Pantera together again. I told them that when Pantera does get back together, you will know somebody who never lost faith, not for a second. Why did I tell them this? Because I know Philip loves those guys and when he was ready, he would reach out to them and try to make it work again. I had the feeling that one morning (afternoon maybe), all the CFH boys would just roll out of the rack and say "let's go!".
Of all the time I've spent with Rex and Philip, I never badgered them about Pantera, but the subject did come up every once in a while. As for Rex, he would refer to the state of things simply as "silly nonsense". All I ever got out of Philip was something like "nyaaaa... I just don't feel like sitting down and writing Pantera riffs right now."... and that's it! No crazy accusations, name calling, or carrying on. As a matter of fact, in the middle of all the heat, Philip described Vinnie as "the perfect drummer" and that Vinnie could drum more perfect than a drum machine if he so chose. What he said of Dime, he also repeated tonight. "The best of the best".
It's sad that the media would irritate the situation so much. Countless times, Kate and I would listen in on Phil doing interviews. Always, always, always, the jackals wanted Pantera dirt. Sometimes Philip would give it to them, sometimes he would not. However every single time I was there, he expressed his love for, and wished luck to Vinnie and Dime but that was somehow left out of the final print more times than not. I was at Philip's house a few weeks ago and I informed him that I handle the Official Pantera site now, and he asked me if I talked to Dime. I said "No, when was the last time YOU talked to him?" with a sigh, he said "three years". Not a "fuckin right 3 years" not a "yeah three years and it's gonna be three more"... but the dude was genuinely disappointed about the situation. I could tell... the time to patch things up was drawing near.
There's more I want to share, but it's almost 5AM right now, and I just managed to hold myself together long enough to get that out.
Philip isn't hiding out or waiting for the right moment to speak, he's in Texas right now searching for answers to this tragedy the best he can. There was one thing he asked of me, that I humbly bring to you all: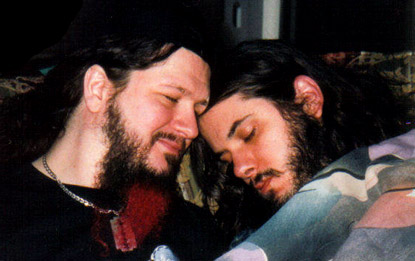 Darrell my brother. The best of the best.
-Philip H Anselmo
Posted by the Official Pantera Web Site Administrator and someone deep within the world of Philip and Rex's new band, Down.
Part 2:
A Message






From Metallica's






Lars Ulrich
SOURCE: metallica.com 12/9/2004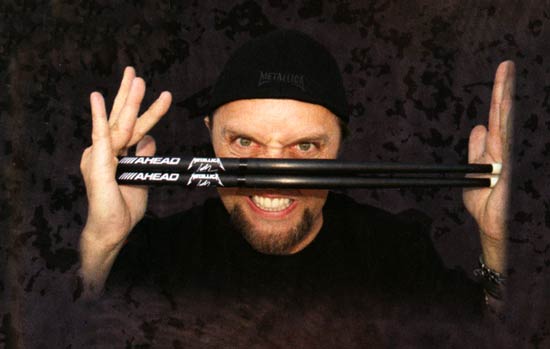 RIP DARRELL
This is unbelievable. To sit here and talk about Darrell in the past tense seems so wrong, so unfair, so unjust, I don't even know what to say. My heart goes out to Vinnie, to their families, to the other band members, and to the families and friends of the other people that were killed or injured, in this fucking senseless act of selfishness and stupidity.
In 1985 I was fortunate enough to meet both Darrell and his brother in Dallas on tour. The first thing me and my friend did as soon as that tour was over, was to head straight back to Dallas and hang out with Darrell and Vinnie for a long time, cuz they were the coolest muther fuckers that we had met after criss-crossing the states for three months. That was the beginning of a friendship that was anchored in love, respect, fun, outrageousness, music, booze, sweat, late nights, early mornings, hangovers, headaches, pounding eardrums, sore bodies... the list goes on.
There's a tendency in these fucked up moments to use the word "I" a lot and focus on one's own feelings of pity and shock... so instead let it just be known that thru these eyes Darrell was incredibly warm, open, fun, nutty, forthcoming, talented, embracing, unpretentious, accommodating and he always had a very attractive innocence about him that obviously made him never threatening and always welcoming.
Darrell and his brother were the cornerstone of musical adventures that were always groundbreaking, pushing boundaries, challenging to themselves and to their fans, respected by their peers and always true musicians' musicians, and today the rock world is worse off because of this untimely and senseless waste.
Much love and respect and thanks for letting me be a small part of your life and I know you are already having fun and throwing it down with Bon Scott, Keith Moon, John Bonham, Jimi, Cliff B., and the rest of the musicians and troublemakers that you are hanging with so prematurely.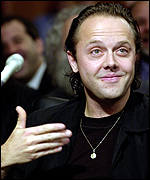 Lars
Part 3: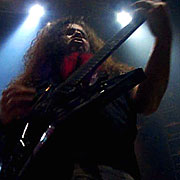 Dimebag Darrell,






Four Others Killed






In Ohio Concert





Shooting
Source: https://www.mtv.com
Dimebag Darrell, guitarist for Damageplan and Pantera, was killed during a shooting spree at a Columbus, Ohio, nightclub Wednesday night. He was 38.
Darrell, real name Darrell Abbott, was among the five people killed during the incident. Also dead are the gunman, 25-year-old Nathan Gale of nearby Marysville, Ohio; Damageplan bodyguard Jeff Thompson, 40; fan Nathan Bray, 23; and Erin Halk, 29, who worked at the club. Gale also wounded three people.
Damageplan had just begun their first song in front of approximately 250 people at Alrosa Villa when the gunman jumped onstage, made a comment about Pantera, and began firing at close range into Darrell's body, shooting him several times before opening fire on the crowd.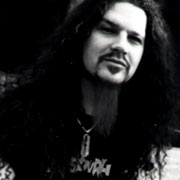 A patrol officer nearby, James Niggemeyer, heard the call of shots fired at 10:18 p.m. and by 10:20 p.m. had snuck inside the club through a back door, according to public information officer Sergeant Brent Mull. After entering, Niggemeyer, who had no backup, confronted the gunman onstage, where he observed one victim and Gale holding a hostage by the neck.
"The officer was able to strategically gun this guy down before he was able to kill his hostage, and it appeared that he was about to kill his hostage," Mull said at a press conference Thursday (December 9). "The suspect had the hostage in a headlock situation and had his firearm out shooting, and it's believed he was about to take his gun to the hostage."
But the hostage wriggled out of the way slightly, Mull said, and the officer was able to kill the shooter with a single shotgun blast as the hostage escaped uninjured. Police said Gale, whose arrest record lists him as 6 feet 3 inches tall and 225 pounds, used a Beretta 9 mm semiautomatic handgun and reloaded once during the shooting. Gale's prior arrests were all nonviolent, and included driving with a suspended license and trespassing.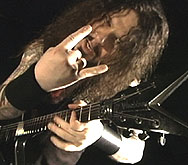 Police have not confirmed the names of the three wounded victims, but the club's manager told the Dispatch that one of them was a security guard who had tried to wrestle the attacker's gun away. Damageplan reps say the other two wounded were tour manager Chris Paluska, who is in critical but stable condition, and drum tech John "Kat" Brooks, who was scheduled to be released from the hospital Friday (December 10). The band's head of security, Jeffrey "Mayhem" Thompson, was also killed in the tragedy.
"If the officer hadn't acted when he did and how he did, we'd probably be looking at more dead, because this guy was actively shooting," Mull said. Following the incident, police took more than 200 patrons onto three city-donated buses, where they were interviewed by some 60 police detectives.
"The ones that were inside and witnessed this ran for their lives and were in fear for their lives," Mull said. "They are victims too, and we want to take care of them."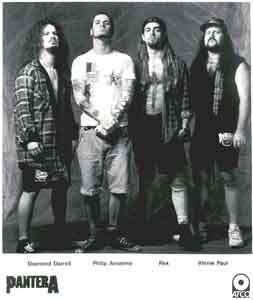 In 911 tapes released Thursday, one caller tells the operator, "There's been a shooting! Somebody's shooting! He's shooting the band, oh sh--, he's still shooting!" Another is heard frantically telling the 911 operator, "We need to get out, we need to get out! I can't, I can't get out."
One concertgoer, his jeans torn and soaked with blood, told CNN he jumped onstage and attempted to give Darrell CPR before paramedics arrived.
Police have interviewed friends and relatives of the shooter, attempting to establish a motive for his actions. "We may never know the motive for this," Mull said, "unless he left a note somewhere else."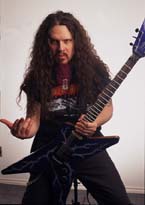 One eyewitness, 37-year-old food vendor Medhat Mokhtar, told MTV News that he saw Gale lingering outside the club prior to Damageplan's set. Gale paced near Mokhtar's food cart and only entered the club when Damageplan's performance began. Shortly thereafter, Mokhtar noticed concertgoers fleeing the club and screaming, and the vendor headed inside to see what the disturbance was. He said he then made his way to the stage where a crowd had gathered around the wounded Darrell. "I tried to push them away, but people loved him too much. The people were kissing his hands and his feet and trying to give him CPR," Mokhtar said.
Searching Gale's residence is the next step of the investigation, as is analyzing amateur video footage taken of the incident, which homicide investigators are looking at now, Mull said. The venue had no surveillance footage. Mull also said he had been told there was no metal detector at the club, though he could not confirm that at press time and a club spokesperson could not be reached.
As word of Dimebag's death rippled through the metal community, the news was met with shock and sadness.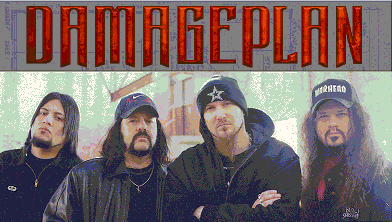 "I'm speechless," former Rob Zombie/ Ozzy Osbourne bassist Rob Blasko Nicholson said. "This is totally unreal. Dimebag is a fucking legend and this is total bullshit."
"This is insane and this is beyond travesty," Killswitch Engage frontman and former Damageplan tour partner Howard Jones said. "This is beyond anything I've ever heard. This shouldn't happen in or outside of the rock and metal community. He will be missed and mourned as a person, as a musician, and as a friend."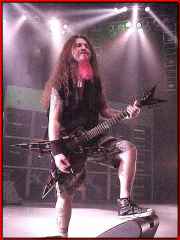 "Let's for a second forget that I even knew him, [and focus on] just the fact that this was allowed to happen," Slipknot singer Corey Taylor said. "If somebody can jump onstage with a gun and shoot one of the most influential guitarists of my generation, what's next? If this is allowed to happen, what the hell? What does that say? Just that somebody would think this was a good idea in his own insane world, what does that say about where we're at right now? It's definitely given me pause. I'm an entertainer as well as a musician, so I have to look at this and think not only has one of my really good friends died, but what if that had been me?"
Damageplan also features Dimebag's brother, former Pantera drummer Vinnie Paul; singer Patrick Lachman and bassist Bob Zilla.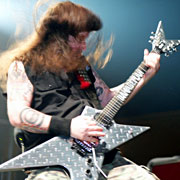 Part 4:
'Dimebag' Darrell





Abbott:






A Larger-Than-Life





Guitarist






And Human Being
Source: https://www.mtv.com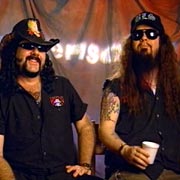 "Larger than life" are perhaps the words that best describe guitar legend Darrell Abbott — a.k.a. Dimebag Darrell — who was shot and killed onstage Wednesday night in Columbus, Ohio.
From the moment he and his brother Vinnie (who went by Vinnie Paul) formed Pantera in Dallas in 1982, Abbott lived to be a heavy metal hero and strived to take guitar playing to a new place. And when Pantera took off, he gleefully indulged in the spoils of rock stardom, launching his own strip club and endorsing his own line of guitars. But what he'll always be best remembered for is his mastery of his instrument.
For more than 15 years, Abbott's playing crackled and burned like a dangerous brushfire, first with Pantera, and then, when that band publicly exploded in 2000, with Damageplan, which he co-founded with Vinnie last year. He also worked on an album with country maverick David Allen Coe and guested on records by Nickelback, Anthrax and others. While he came of age in the '80s thrash-metal scene, Abbott had tremendous influence with the recent crop of metalcore and nü-metal acts.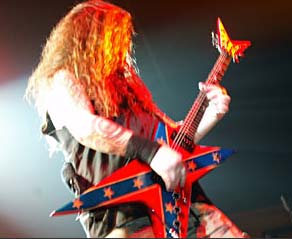 "After Eddie Van Halen, you had Dimebag Darrell," said Anthrax guitarist Scott Ian. "He was the next guy that came along and did something as original and important on guitar."
"Dime's music gave me so much to live for when I was younger, and he truly changed the face of metal with his unique style of guitar playing," Chimaira frontman Mark Hunter said. "There isn't a metal band I know that hasn't borrowed a riff or three from him."
Indeed, Abbott's playing was powerful, innovative and unpredictable. He was equally capable of churning out crunching, staccato riffs as ominous textural arpeggios, and while he was metal to the core, his Texas roots and love for ZZ Top and Lynyrd Skynyrd gave his playing a southern swing that, in the early years of Pantera's success, was dubbed "power-groove." In addition, Abbott flavored his songs with squealing harmonics and tuneful lead licks that became an integral part of his rhythms. However, he may be best known for his searing, virtuosic leads, which were filled with lightning-fast runs that cascaded from his amplifiers like torrential rain.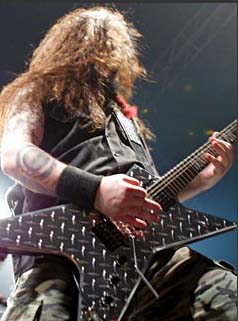 "He could take a riff that would take somebody a year to master and he could rip it off in seconds," added Slipknot's Corey Taylor. "He made everything look like he was playing 'Smoke on the Water' with one finger."
Abbott's musical abilities playing were matched only by his outsized personality, which, as much as anything, resembled that of a professional wrestler. In 1999, when I was an editor at Guitar magazine, he agreed to an interview for a cover story — but he had some very clear and specific conditions. He wanted a fifth of Seagrams 7, two six-packs of Coors Light and a six-pack of Coca-Cola before he'd talk to me. And if the cans weren't cold, he'd walk. Once his terms were met, he was as cooperative and enthusiastic as a kid in sex-ed class, and gave me an interview that was colorful, funny and revealing.
It's important to note that Abbott wasn't being a jerk with those requests; he was just being Dime. He cherished being a rock star, was always "on," and lived to have a raucous good time. And he always made sure everyone around him was as pumped up, comfortable and/or inebriated as he was.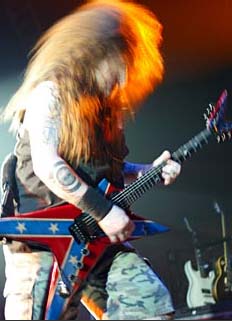 "He's the type of guy that would do anything for his friends," Anthrax guitarist Scott Ian said. "He really did put his family and his friends first, and for him everyone was his family. Once you came into contact with Dimebag and became friends with that guy, it was a sacred bond. Once you shared drinks with that guy, you became a part of his extended family."
Dime's adopted family included Dallas group Drowning Pool, just one of several bands the guitarist embraced and helped out by taking on tour and plugging in interviews. "Darrell inspired our lives and how we carried ourselves, not just as musicians out on the road but also as friends in everyday life," the band said in a statement.
"Him and Vinnie were at every show that we did from '99 all the way until the last time I saw him," Slipknot's Taylor said. "Every time we played Dallas and they were in town, they were there, and we would hang out every night."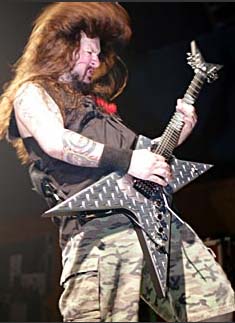 Abbott was born on August 20, 1966, in Dallas, the son of country & western songwriter and producer Jerry Abbott. From an early age, he watched his dad in the studio, an experience that inspired him to be a musician. "I used to go down there as much as I could to see anybody play any kind of music," he told me in 1999. "I was lucky enough to get to see guys like Bugs Henderson, Jimmy Wallace, all those great Texas blues players."
He started listening to music by Merle Haggard and country maverick David Allen Coe, and as he got older, Abbott discovered ZZ Top and Skynyrd. But it was Kiss, and especially Van Halen, that turned the young Abbott on to rock music. Like Eddie Van Halen, Dime had originally played drums, but his older brother Vinnie showed more aptitude for the instrument, so at age 12, he switched to guitar. He quickly learned Boston's "More Than a Feeling" and Deep Purple's "Smoke on the Water," after which his dad taught him some scales and music theory, but he said that his mistakes served him best on his road to musical discovery. "When I tried to play something and screwed up, I'd hear some other note that would come into play," he said. "And then I started moving it around and trying different things to find the beauty in it."
Three months after picking up a guitar, Abbott could already play better than most people who'd been hacking away at it for years. His brother was as much of a natural on drums. After winning several local guitar competitions, Dime and Vinnie formed Pantera with singer Terrence Lee and bassist Rex Brown in 1982. But that incarnation of the band had little in common with the blazing group that later created heavy metal landmarks like 1990's Cowboys From Hell and 1992's A Vulgar Display of Power. At first, Pantera more closely resembled a second-rate Def Leppard or Kiss, and for most of their career, the bandmembers distanced themselves from their first four albums, which were all released when Abbott was in his mid-teens.

The turning point for Pantera came when vocalist Phil Anselmo joined in 1988. His abrasive, hardcore vocal style encouraged the Abbotts to play a more aggressive form of music that had more in common with thrash bands like Metallica and Slayer. Two years later, Pantera were signed to major label Atlantic's Atco Records imprint and released the breakthrough Cowboys From Hell. Pantera toured exhaustively and quickly built a reputation as one of the most exciting live acts on the heavy-music circuit.
Even when Nirvana ushered in the alternative revolution and heavy metal faded from the charts, Pantera continued to thrive through the '90s, releasing uncompromising, uncommercial albums that connected with their dedicated fanbase. At the same time, Abbott was routinely elected as one of the top metal axemen in numerous readers polls, and the band continued to pack 'em in at shows. "People that love this form of music have loved it from way back — Sabbath, Zeppelin, the early days. And we still get those kind of cats coming out to our shows," Abbott said in a 2001 interview with MTV. "Once you're into it, you're into it for a lifetime. And maybe it's not the coolest thing when it comes to what's on top of the charts, but that sh-- that's been on top of the charts — on and off, on and off, a million times — and we're still standing strong. So we'll be here forever. United and hard we f---ing stand."
Pantera reached the end of the line in 2000. After releasing Reinventing the Steel, the band played Ozzfest for the second time, a tour about which Godsmack frontman Sully Erna commented, "I'm just glad we're going on before Pantera — that's a hard act to follow." But while the band remained as tight as ever onstage, offstage a rift was growing ever wider between the Abbott brothers and Anselmo. After two years on indefinite hold and scathing comments from both camps, Pantera officially broke up, and the Abbotts eventually formed Damageplan with singer Patrick Lachman, who'd formerly been a guitarist with ex-Judas Priest singer Rob Halford; he'd become friends with the Abbotts in 2000 during a Dallas tour stop. When Halford rejoined Judas Priest, Lachman was out of a job, and called up Dime. "I said, 'Well, I got the guitars handled,' and he said, 'Dude, I can sing. Let me take a shot at it,' " Abbott recalled in an interview in January. "So, we gave him a couple [tracks] to try, [and] he nailed them, and it was on."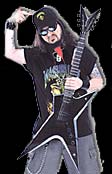 The band's debut album, New Found Power, came out in February of this year, and proved that not only could Dimebag still rip, he also could evolve. In addition to crushing grooves, the record was packed with atmospheric flourishes and a combination of caustic and melodic vocals. Damageplan spent most of this year on tour, and were planning to spend much of 2005 on the road before going back into the studio to record new material.
The mark that Abbott left on heavy music and its community is indelible. He was a stellar player, a true character and an unforgettable friend to many. "He was one of the coolest people I've ever met," said Slipknot's Corey Taylor. "The guy just loved to laugh and he loved to make you laugh. And he loved to make you do something that you would never do in a million years. He was a guy that lived in the moment. His philosophy was, 'Let's do something that is gonna make us remember tonight for the rest of our lives.' And that's something I'm gonna fucking miss for the rest of mine."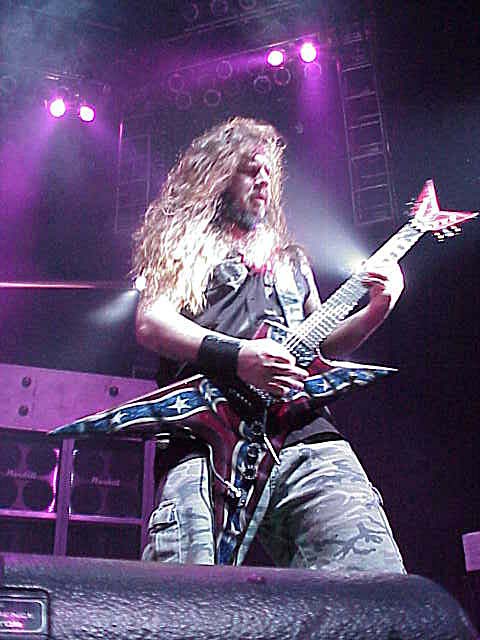 You will always live on in our hearts Darrell!
"Lord How We Miss Him..."
With much love and respect: Corey "Core" Grundstein